In Memory of the Deceased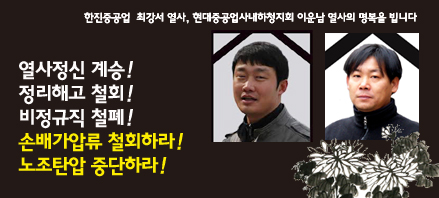 With Grief, Anger and Determination. . .

Within only a week of the election of New Frontier Party presidential candidate Park Geun-hye, four workers took their lives with their own hands. A fifth died from heart complications experienced while attending his comrades' funeral. The death of these workers is an expression of despair felt at having struggled for years against injustice and repression only to be faced with the election of the daughter of a dictator and the prospects of five more years of conservative rule.
The first death was Gang-seo Choe, an organizer for the Hanjin Heavy Industries & Construction Chapter of the Korean Metal Workers' Union (KMWU(. Choe had struggled valiantly with his fellow workers against Hanjin's plans for mass dismissal, finally winning reinstatement last year. After Hanjin workers returned to work on November 9, however, the company began sending them back out on unpaid leave, and persisted with a lawsuit claiming 15.8 billion won in damages from workers who had participated in the struggle. On the morning of December 21, Choe declined to take part in the morning outreach that was usually part of his daily routine. Instead, he hung himself in the union office, leaving a note denouncing Hanjin's repression and lamenting, "Nothing will be possible for the next five years." A father of two young sons, he was 35 years old.
The following day on December 22, Yun-nam Lee, Vice Director of Organizing for the KMWU Hyundai Heavy Industries In-house Subcontractor Chapter also took his life. Lee had participated in the union's establishment in 2003 and struggled fervently for the elimination of discrimination against irregular workers. Lost in grief when he heard of Choe's death, and blaming himself for having been able "unable to help" Choe and other struggling workers like him, Lee threw himself from the top of an apartment building. He was only 42.
The same day, Gyeog-nam Choe, an activist with the Seoul Alliance for Democracy, Public Welfare, Peace, Reunification and Self-Determination also took his own life. A former student activist, Choe was only 41 when he died.
Only three days later, Ho-il Lee, Chair of the Hanguk University of Foreign Studies Branch of the Korean University Workers' Union also committed suicide after struggling against the university's repression for many years. Having help to organize a strike in 2006 as the union's policy director, Lee was illegally dimissed. He won reinstatement in Supreme Court decision in 2009, but the university administration refused to reinstate him to his original post, instead ordering his transfer to Daecheon. He hung himself in his union's office on Christmas day, taking his on life at the age of 47.
The following day, Vice Chair of the Hanguk University of Foreign studies union Gi-yeon Lee collapsed from heart failure and passed away after surgery failed to revive him. He had been keeping watch at Ho-il Lee's memorial alter. He was 49 years old.
Coming on the heals of the deaths of 23 Ssangyong Motor workers and the suicide of a Yoosung Enterprises union member last December 4, these five sudden deaths have brought renewed shock and grief to the Korean labor movement. While our hearts are made heavy by these tragedies, however, we must not let our spirits be crushed. It is now more important than ever that we find our will to fight and come together to do so.
The Research Institute for Alternative Workers Movements and People's Solidarity for Social Progress express our heartfelt condolences to the family, friends and comrades of the deceased. We pledge to move forward in the face of hardship to build a strong and united movement. We commit ourselves to fight until we win an end to mass dismissals, the regularization of all irregular workers and respect for all workers' fundamental labor rights so that the souls of the deceased may finally rest in peace.